Clinical Studies Center - 2009 JAHVH Research Overview

RESEARCH MISSION
To discover knowledge, develop VA researchers and healthcare leaders, and create innovations that advance healthcare for our Veterans and the Nation

RESEARCH ACHIEVEMENTS
Association for the Accreditation of the Human Research Protection Program (AAHRRP) Accreditation


Association for Assessment and Accreditation of Laboratory Animal Care (AAALAC) Accreditation


Recipient of Rehabilitation and Health Services R&D Research Enhancement Award Programs (REAP)
Research 2009
Currently there are more than 100 Principal Investigators and 300 researchers working on over 200 active projects. Over the past year JAHVH has increased funding by 24%.
Cutting Edge Research at JAHVH: An Overview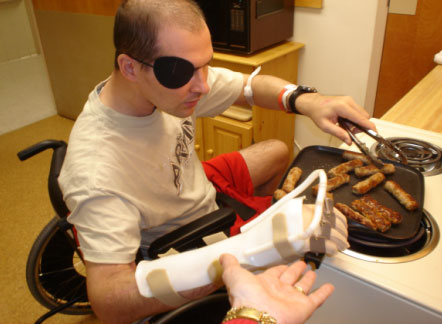 Spinal Cord Injury Research:
The JAHVH Spinal Cord Injury (SCI) Center is a Clinical Program of Excellence focusing on improving function, promoting independence, and enhancing quality of life. The SCI/D program is a hub for advances in the science of rehabilitation and spinal cord injury treatment through ongoing research. Research topics include prevention of infection, pressure ulcers, respiratory care, epidemiology/cost factors, wheelchair skills, coping effectiveness and caregiver respite.

Cancer Research:
The Cancer Program is made up of three specialties: hematology, medical and surgical oncology. Oncology research focuses on improving survival and quality of life for cancer patients by advancing cancer therapies, prevention and early diagnosis. Cancer-focused studies include the following: cardiac hormone therapy, leukemia, myelodysplastic syndrome, anemia, prostate cancer, head & neck carcinoma, colon and rectal cancer.

Supported with almost $7 million annually, research conducted at the James A. Haley Veterans' Hospital (JAHVH) ensures veterans have access to cutting-edge medical and health care technology. With 300-plus research projects conducted by more than 100 principal investigators, four of whom are prestigious VA Career scientists, the JAHVH Research & Development (R&D) Program is an integral part of the hospital's mission and plays a very important role in the health care veterans receive. Production of new knowledge, techniques, and products has led to improved prevention, diagnosis and treatment of diseases and disabilities.

JAHVH's R&D Program includes many components to explore all phases of veterans' healthcare needs:
Biomedical Laboratory R&D supports exploration of biological or physiological principles in humans or animals and includes pre-clinical investigations of tissues, blood or other biologic specimens.
Clinical Science R&D focuses on interventional, effectiveness, clinical, epidemiological and technological studies for veterans.
Rehabilitation R&D focuses on developing and evaluating technologies, devices, and interventions to help veterans maintain independence while maintaining safety.
Health Services R&D focuses on advancing healthcare specific to quality, access, patient outcomes and health care costs.
Other Federal (National Institute of Health, DoD, Dept of Health & Human Services and non-Federal agencies (American Heart Association, ADA, pharmaceuticals) support fundamental creative discoveries and innovative research.
VA Research


Cardiology Research:
JAHVH's cardiology department boasts a thriving cardiac care clinic focusing on cardiovascular aging, epidemiology, pathophysiology, diagnosis, treatment and prevention of cardiovascular disorders. Cardiac focused studies include the following: coronary artery disease, rhythm and valve disorders, heart attacks and congestive heart failure.

Mental Health Research:
JAHVH's Mental Health and Behavioral Sciences Service promotes the psychological health and well-being of aging adults with a new spotlight on returning Operations Enduring Freedom and Operation Iraqi Freedom (OEF/OIF) active duty military service members. Research focuses on developing new preventative measures, better diagnoses and improved treatments for psychological conditions. Studies include the following: dementia, Alzheimer's, wandering, Post Traumatic Stress Disorder, depression, cognitive decline and development of tele-health programs and treatment tools.

Physical Medicine Research:
Physical Medicine and Rehabilitation Service includes accredited Traumatic Brain Injury (TBI), Rehabilitation and Chronic Pain Rehabilitation (CPRP) Clinical Program of Excellence programs with a focus on comprehensive treatment to maximize functional independence enhance quality of life and assist veterans maximize their role in society. Current research includes transferring techniques, fall aversion, polytrauma focused rehab, isometric strength testing, gait analysis, joint movement, caregiver assistance, development of pain evaluation tools and satisfaction scales, chronic headaches, and blast exposures. The DEKA robotic prosthetic arm (pictured above) offers combined technology & software that enhances functionality for amputees injured in OEF/OIF.

Patient Safety Center of Inquiry:
JAHVH's Patient Safety Center of Inquiry (PSCI) focuses on preventing adverse events and maximizing outcomes related to mobility and immobility for OEF/OIF veterans, persons with disabilities, and frail older adults. The center has significant infrastructure in place to support research including: five research laboratories (Patient Safety Engineering, Human Factors and Patient Care Ergonomics, Product Evaluation, Patient Safety Simulation, and 3-D Gait and Balance), patient falls clinical team and a research mentorship program.

Research in Surgery:
Research encourages surgical advancements through cutting edge technology. Studies include investigating the safety and efficacy of vascular stents; open heart surgery techniques; and gastric bypass procedures.

Other Medical Research:
Other general medical research at JAHVH is aimed at preventing, treating, and curing numerous acute and chronic medical conditions. Research studies include: diabetes, renal disease, gastrointestinal disorders, HIV, arthritis, hearing impairments, ophthalmology, infections, flu, shingles, liver, respiratory and neurologic disorders.

Home Based Health Care:
JAHVH's Home Based Health Care (HBHC) program strives to provide compassionate care to veterans in the comfort of their home, promoting maximal independence support to the caregiver. HBHC research includes: caregiver respite/assistance, wheelchair skills, home-based tele-health stroke care and other home-based medical technology.
RECENT SCIENTIFIC ACCOMPLISHMENTS

- David Vesely, M.D., Ph.D., is the first VA employee to be selected for the highly prestigious 2007 Service to America "Sammie" Career Achievement Medal in medical research. He also received the Distinguished Scientist Award given by the International Clinical Ligand Assay Society and the Kern Award, the highest honor presented by the American Society of Military Physicians.

- Audrey Nelson, PhD, RN, FAAN, Nurse Scientist and Director of the PSCI received the Bullard-Sherwood Research-to-Practice Award from the National Institute for Occupational Safety and Health (NIOSH) recognition of outstanding efforts by scientists in applying occupational safety and health research to preventing workplace fatalities, illnesses, or injuries. She also received the July 2008 Distinguished Service Award by the National Association of Orthopedic Nurses for her expertise and guidance in developing safe patient handling algorithms for orthopedics.